ROMANTIC BOAT TOUR LISBON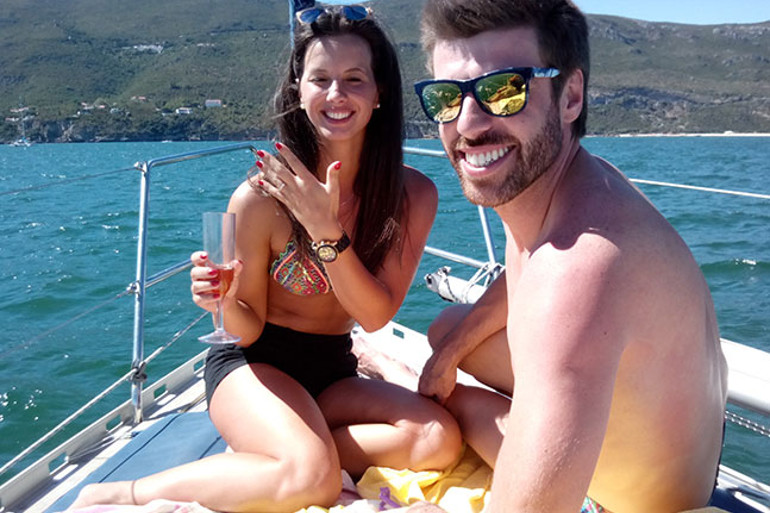 The romantic boat tour happens in Lisbon. It's an experience for 2 guests on a private sailing boat.
This boat has on the interior  bedrooms, kitchen and toilet and on exterior sitting areas and table.
All the sailing boats have sound system.
Duration of the romantic boat tour
Our suggestion is between 2 and 4 hours. If you complement with catering we suggest 3 to 4 hours. On some boats it's possible to stay for the night after the sunset tour.
Sunset + 1 night on board – In the end of the sunset tour you can have a dinner on board and spend the night.
Catering services for romantic experiences on boat
The best choice for romantic boat tours are the Cheese Boards + Wine. You can add this option here https://www.lisbonyacht.com/product/drinks-pack-sailing-boat/
If you pretend to complement with other catering services (our partner Portugalia is a specialist in seafood). Other options can be ordered directly via Uber Eats app (30 min aprox for delivery).
The boats are equipped with cutlery, plates and cups.
Wedding proposals on board
Are you looking for a weeding proposal on a boat? You are in the right place! We have done a lot of these private services, and we assure you a "yes! 🙂
The perfect song, the perfect spot during the sunset and the magic happens!
Feel free to contact us directly via whatsapp for +351 931 369 236 or [email protected]
Transfer services for the romantic tours by boat
Transfer services can be arranged to complement the boat tour with your staying in Lisbon. Avoid going around the city looking for car spots, focus on your partner and leave the rest with the driver.
Transfers are more expensive than going by Uber, but if you are willing to spend a bit more, it's a fast ride everywhere in the city, you will have a trustful driver and you don't have to be waiting a different car every time.
What type of boat should I choose ?
The best boat for couple boat tours is the sailing boat, as they are romantic boats, you can sail without engine noises, and for the price, as will be only 2 guests, it's the cheapest option. The boat has plenty of space for a romantic couple, you will enjoy a lot. Visits can be done before booking Contact by WhatsApp for faster reply.
What about the booking ?
The remaining costs, related with catering services can be paid closer to the event date. Contact us for more info.
Routes for Romantic Boat Tours in Lisbon
Route 1
Duration: 2/3 hours
Tour: It covers the most symbolical parts of Lisbon. Tower of Belém, Commerce Square (Lisbon), Bridge 25th April and the Christ monument.
Other routes can be arranged, as well as anchoring close to a beach for a calm event.
Route 2
Duration: 4 hours
Tour: It covers the most symbolical parts of Lisbon PLUS the east area of Lisbon and the modern part "Nations Park". The passage on the middle of this bay is calm and pleasent.
Other routes can be arranged, as well as anchoring close to a beach for a calm event.
Book now the romantic boat tour